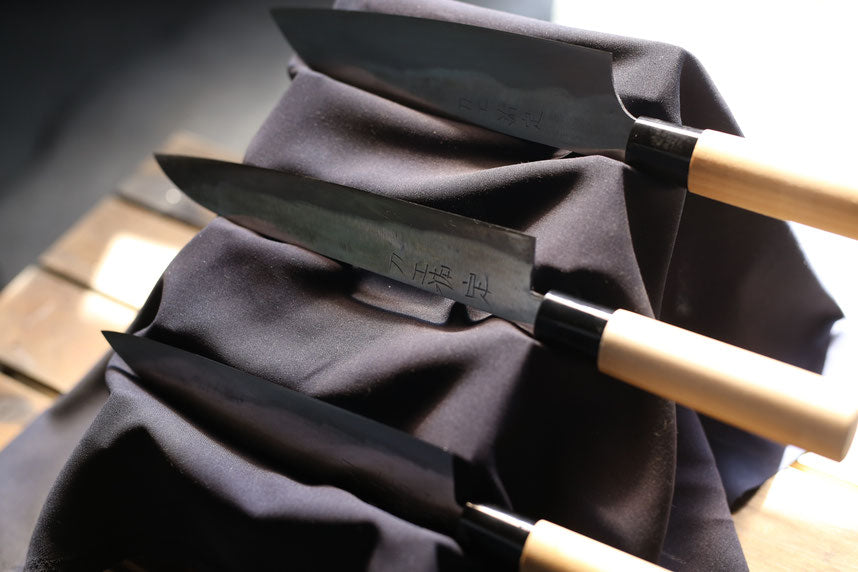 Give your Business the Sharp Edge It Deserves. With our authentic Japanese Knives made exclusively in Japan
Master in Premium
Selection
100% handmade in Japan
by artisan craft masters
Unique wholesale
opportunities
Mastered by Legends, Crafted with Tradition, Forged in Heritage
Our knives are celebrated for their razor-sharp edges, exceptional durability, and exquisite design. They are meticulously crafted by two legendary Japanese artisan bladesmiths – Mr. Sukesada Ueta and Sugimoto Knife. With years of experience, passion, and dedication, they infuse each blade with extraordinary artistry and precision.
Internationally Renowned Japanese Coffee
Knowledge, craftsmanship, and expertise passed down through generations are now shared with the world.
Featured in Numerous TV shows, newspapers, and magazines
Sculpting Blades with Unique Grain Patterns and Razor-Sharp Precision
Unwavering Commitment to Authenticity, Quality, and Craftsmanship
At Dream of Japan, we're dedicated to uniting craftsmanship and tradition to create extraordinary kitchen knives that embody the essence of Japanese culinary mastery. Our skilled artisan blade masters meticulously craft these remarkable knives using centuries-old techniques and wisdom that are rooted in Samurai sword-making.
A Versatile selection of Japanese Kitchen Knives
At Dream of Japan, we understand the importance of versatility in the culinary world. That's why our knife collection isn't just about craftsmanship and authenticity but also exceptional versatility. Our knives are carefully designed to excel in various culinary tasks, making them the perfect addition to your inventory, whether you run a high-end restaurant, a specialty kitchen store, or a culinary school.
We'll Help You Master
While Dream of Japan was founded only in 2023, our knife-makers have delivered exceptional Japanese kitchen knives for over a century. The founder of Dream of Japan, Kei Nishida, is a world-renowned tea merchant, connoisseur, and scholar. He has studied and perfected the art of Japanese artisanal products for over 10 years. He has worked with all types of companies all over the world; winning the world tea championship three years in a row, writing 4 books on it, and having a renowned blog—have given him some serious insider secrets.
Luckily for you, we are more than happy to teach you everything we know. So when you work with us, we will expertly guide you through setting up and creating an irresistible service that will keep your customers coming back for more. We'll also provide you with valuable resources, methods, and guides to help you every step of the way.