Santoku Knife - Premium Japanese Artisanal Knife
30 Days Money Back Guarantee

We believe in a customer-first policy. If you are not happy with our product or service, we will give you a full refund. If you are not satisfied in any way, please email us at info@dreamofjapan.com.

Our motto is to make you happy and healthy. We wish to become part of your life and that you are happier and healthier than you were yesterday. 

Price Guarantee Policy 

We strive to be the best online retailer of Japanese products. Our partnership with the best Japanese products in Japan allows us to acquire their products at a reasonable cost, which we transfer to our customers through lower prices. We want our customers to get the best price every time.

If you find any other online store which sells the same item for a lower price within six months of the date of your purchase, please let us know, and we will be glad to match that price and refund you the difference. This is true for our store as well; if you find that our store is lowering the price of a product you purchased from us less than six months ago, we will refund you the difference. We want you to feel confident that you are getting the best price.

To request your partial refund, simply email us a link to the product whose price has been lowered and your order ID. We will process your request and credit your credit card accordingly.

Our 100% Price Guarantee has some limitations:

Our Price Match Guarantee applies only to the item you purchased from our store. Additionally, the purchase must be completed before requesting the price match.
We cannot provide a refund for products with engraved custom names. 
Promotions such as

 

coupons, rebates, and buy-one-get-one-free

 

offers

 

are not eligible.
The item must be in stock on the competitor's site.
The competitor site must be an

 

online

 

retailer without a physical location.
We do not offer price-match against discounters and auction sites like eBay, Overstock, etc.
The competitor site must be an authorized retailer for the item in question.
The Price Match Guarantee includes the retail price of the item and the shipping cost. It does not include sales tax.
Unleash Your Culinary Potential 
Handcrafted Knives x Extraordinary Creations 
Enter a realm unifying craftsmanship and tradition in extraordinary creations that embody Japanese culinary mastery.  In this enchanting world, the boundaries between art and utility blur, revealing skillful craftsmanship and time-honored traditions.  This exquisite fusion of form and function defines these remarkable culinary instruments.
Within the realm of Japanese knives, two remarkable artisans stand as pillars of excellence, their names whispered with reverence amongst connoisseurs and collectors.  These masters connect deeply to their predecessors, channeling ancient traditions and techniques.
Methods once employed in forging legendary samurai swords have been revived to create awe-inspiring culinary instruments that are as much works of art as tools of gastronomic mastery.
The attention to detail in every curve, edge, and delicate balance infuses these blades with a sense of purpose and finesse that cannot be mass-produced.
This is the art of the Japanese knife, a mesmerizing dance between creator and creation that elevates these knives beyond mere utensils into conduits of culinary inspiration.
Our knives travel from the heartland of Japan to the shores of the USA and beyond to the hands of discerning chefs and home cooks.  It's the reason we exist.  Our mission is shared by parent companies Japanese Green Tea Co. and Japanese Coffee Co., championing Japan's finest products globally for over 30 years.

We welcome you to join us on this extraordinary culinary odyssey, where tradition meets innovation, craftsmanship reigns supreme, and each cut carries the weight of history.

Discover the Masters:
Introducing the Three Legendary Knife Makers at Japanese Knife Co.
At Japanese Knife Co., we offer an extraordinary opportunity to immerse yourself in the mastery of two legendary knife makers: Mr. Sukesada Ueta, Sugimoto Knife and Asano Kajiya. Our company takes pride in being one of the select few exporting their magnificent creations, enabling knife enthusiasts worldwide to experience their unrivaled craftsmanship.
Their knives are renowned for their razor-sharp edges, exceptional durability, and exquisite design.  Each knife reflects the dedication and passion of these masters.  Immerse yourself in the captivating narratives of Mr. Sukesada Ueta and Sugimoto Knife as you explore their extraordinary works, and elevate your culinary experience to new heights.
Mr. Sukesada Ueta 
Mr. Sukesada Ueta (刀工 上田祐定) is a legendary skilled blacksmith who specializes in creating high-quality knives. He was born in 1947 and has dedicated his life to perfecting the art of creating knives in the traditional Japanese style, using only 100% steel and an ancient ironmaking method known as "Tatara.(たたら)" This unique process involves using iron sand from various regions around Japan and heating it to a relatively low temperature (1200 to 1300°C) to create pure steel. By doing so, Mr. Ueta's knives boast an excellent cutting edge and a distinctive pattern on the blade and surface, a hallmark of Japanese knives.
In April 2016, the Small and Medium Enterprise Agency recognized his company as a "superior company." (中小企業庁より「優良企業」として「企業白書」に認定) With his extensive knowledge, experience, and passion, Mr. Ueta is a true master of creating traditional Japanese knives.
He specializes in creating authentic Edo-era style knives, using only 100% steel to ensure that each blade is durable and long-lasting so that it can be passed down from generation to generation.
He uses mochi-iron (餅鉄) and iron sand from various regions of Japan to make the steel used in their knives, using the traditional Japanese Tatara-style ironmaking method. This method produces steel with excellent cutting quality and a distinctive grain pattern. As a result, it is favored by many knife makers in Japan, who mostly use steel produced by the same association.
Mr. Ueta is one of the few knife makers who use a combination of different types of iron sand from various regions, making his knives unique in terms of their composition and quality. In addition, Mochitsetsu only uses Japanese iron sand rather than importing foreign iron or steel, further emphasizing their commitment to preserving traditional Japanese methods and materials.
Tatara-style ironmaking is a unique Japanese method with over a thousand-year history. The Tatara-style ironmaking method is renowned for producing some of the world's finest and most exquisite steel. His commitment to preserving this ancient and revered method speaks to his dedication to traditional Japanese crafts and techniques.

Mr. Ueta injured his finger on March 2nd 2023; due to it, he is not able to produce the knife for a couple of months. Please read about it here.
Media Appearances:
Mr. Ueta on PBS Interview (This is America & World) - Nov 2015
US TV station PBS "This is America" interview (above)
Interviewed by Prime Minister's Office (首相官邸 取材協力)
Fuji TV's nationwide live broadcast Everyone's News
TV Show - Rurouni Kenshin Japan-wide
World Cutting Tool Conference 2013 (WCTC2013) 
BS Japan Furusato ha! 
Town Information Okayama's March issue "Place to Visit" featured
Yomiuri Shinbun Newspaper, Morning Edition
Ministry of Education, Culture, Sports, Science and Technology Japanese-German Youth Exchange Project (NHK, RNC, KSB News)
Asahi Newspaper published on October 6, 2011
Mainichi Newspaper published on October 1, 2011
Participated in the 9th Okayama Prefecture Citizen Culture Festival, 2011
Asahi newspaper published on July 30, 2011
Featured on NHK News in June 2011
Published in the Yomiuri Newspaper on May 4, 2011
Broadcast on Yamaguchi Broadcasting in January 2011
Published in the Yomiuri newspaper on January 1, 2011
25th National Culture Festival Okayama 2010 support project
Broadcast on KSB Setouchi Sea Broadcasting on October 18, 2010
Yudai Ueda lecture at Okayama University Grinding Processing Society
Yomiuri Newspaper published on August 29, 2010
And many more appearances
Sugimoto Knife
Founded in July of 1908 during the Tenpō era (天保), Sugimoto (杉本) is a company steeped in a rich history of blacksmithing and knife-making expertise. The company's founder, Kipei Sugimoto(杉本喜平), started the business in Tokyo. He used the ancestral knife-making skills passed down from generation to generation in his family. Since then, the company has continued to innovate and grow, becoming one of the leading manufacturers of high-quality, affordable kitchen knives in the early Showa period. 
Sugimoto was officially established on July 1, 1948, and has since flourished with a capital of ten million yen as of 1994. The company is led by President and CEO Koji Sugimoto (杉本弘治). Sugimoto's headquarters is in the Chuo district of Tokyo, with additional branches in Nishi-Katsushika. The company has a long history of successful business ventures, dating back to 1895. The founder was born in Takefu, Fukui (福井県武生市), as the third son of a blacksmith, Kiyoji Sugimoto (杉本亀吉).
Sugimoto has continued to expand and improve its operations throughout its history. In 1933, the company relocated its principal office and factory to Ueno, Taitō, due to the move of the central wholesale market from Nihonbashi to Tsukiji. In the same year, the company opened additional sales locations in Kamata and Omori. In 1948, the business was officially established to provide customers with high-quality products and excellent service.
Sugimoto has a strong reputation for its exceptional products and services and continues to operate with the same dedication and passion it did over a century ago. With a commitment to tradition, innovation, and customer satisfaction, it is truly a company with a remarkable legacy.
Company Timeline
1895: Kiyoji Sugimoto was born as the third son of Kamaki Sugimoto, a blacksmith in Takefu, Fukui. 
1908: With his mother and siblings,

Kiyoji Sugimoto

moved to Tokyo and started manufacturing kitchen knives using the traditional blade-making technology he inherited from his family. Over time, with his technology and research, the company became a manufacturer of high-quality, affordable products in the early Showa period. (At that time, the company/s name was "Tokyo Blade Manufacturing Factory and Sugimoto Blade Store.")
1933: Due to the move of the Tsukiji fish market from Nihonbashi to Tsukiji, the store was newly established in Tsukiji (current location). Sales outlets were also opened near the Kamata Station and the Omori Market. That year, to expand the business, the head office and factory were moved and newly established in Aobadai, Taitō-ku. Direct manufacturing and sales services then began.
1944: All sales activities were closed due to the worsening of the Pacific War.
1945: All was lost due to the war except for the Tsukiji store.
1946: The current location became the head office, factories were established in Tokyo and other regions, and business resumed.
1948: Kiyoji Sugimoto became president and established Sugimoto Blade Co., Ltd. At this time, using the traditional special techniques of Sugimoto, several types of Chinese knives using Japanese steel were completed and put on sale.
1949: The complete set of high-quality Tsukabiki beef knives for professional use was completed, and sales started.
1960: Kiyoji Sugimoto was appointed C.E.O. and President.
1962: Sales began in first-class department stores in Tokyo.
1970: All-handmade "S.H.M." marked professional beef knife manufacturing, and sales began.
Asano Kajiya
When you're about to step into Asano Kajiya's workshop in Egira-cho, you expect to encounter the stoic world of traditional Japanese blacksmiths absorbed in their iron-forging craft. But then, something unexpected happens. You hear someone passionately explaining Samurai sword-making techniques in native French, leaving you momentarily confused. The clinking of metal on metal and the sound of Japanese being spoken brings you back to reality.
A blacksmith emerges at the entrance, wiping the sweat off his forehead. His warm smile instantly puts you at ease. And with that, you're welcomed into the captivating world of Asano Kajiya's workshop, a place that has given birth to countless Samurai swords and welcomed people from all walks of life - from curious children to global celebrities. Here, creative magic, diversity, and the time-honored craft of Samurai sword-making come together in a harmonious blend, crafting a truly unique experience.
Concept
Established in 2004 in Seki City, Gifu Prefecture, and later relocated to Hashima City in 2006, Asano Kajiya, led by master swordsmith Taro Asano, envisions blacksmithing as more than a craft. It strives to become an "Entertainment-oriented Forge," expanding its activities to include inbound tourism, tourism-related ventures, social media engagement, and innovative product development.
Asano Kajiya's commitment to showcasing the beauty of blacksmithing as an art form and entertainment is a testament to its dedication to both preserving tradition and embracing innovation. Its commitment to diversity and being accessible to the younger generation and people outside Japan is exemplary.
It holds knife and sword-making workshops and has exchange programs with bladesmiths from all over the world (currently, there are apprentices from Memphis (USA), France, and Japan). They work and host knife-making workshops for both domestic and international visitors to the workshop.
Kitchen Knives that are Born from「刀鍛治」(Samurai Swordsmithing)
Asano Kajiya started their journey as a sword-making company, and they still continue to do so besides crafting kitchen knives. In Japanese, the word "Samurai" holds the meaning of "貴人に仕え、支える人"(a person that serves and supports the nobility). For Asano Kajiya, the nobility is the knife user, and every knife is hand-made with the hope of being able to support and serve the knife user in his daily cooking.
Outstanding Precision in Cutting
Each bladesmith at Asano Kajiya has a background deeply rooted in swordsmithing and is a master of Japanese steel, known as " 鋼 " (Hagane). Their expertise allows them to perfect the sharpness of every Asano Kajiya kitchen knife at a molecular level, creating the sensation that the blade effortlessly draws itself into the ingredient.
These blades are also designed to handle ingredients delicately, safeguarding their delicate fibers to ensure the preservation of maximum flavor and nutrients.
Company Timeline
1997: Began apprenticeship under the 25th-generation master swordsmith, Kanefusa Fujiwara.
2004: Founded in Seki City, Gifu Prefecture
2005: Conducted a public forging demonstration of Japanese swords in Canada.
2006: Relocated the forge to Hashima City, Gifu Prefecture.
2012: France (invited by the International Swords Association) Japanese sword public training
2013: Provided instruction on forging techniques (Sponsored by Tamahagane Art) in Canada. 
2014: Conducted a public forging demonstration of Japanese swords as part of the World Heritage Site Citadel de Besançon event in France.
2017: Established the Japan-US Joint Development Research Institute (Seattle, USA).
2018: Established the Japan-US Joint Development Research Institute (Seattle, USA).
Do you want to try these knives?    Try our Knife Finder to check which knife is a good fit for you. 
Worldwide Delivery
We ship directly to our customers worldwide (Except the UK). Your order will be processed on a secure server, then efficiently handled and shipped from Japan. Our knives are carefully packaged with protective material arriving without damage. We offer Guaranteed Satisfaction and Free Shipping, as explained below.
Free Shipping
Free Shipping store-wide today!  
- .
Our selected shipping providers are DHL, Japan Post, and FedEx, which includes automatic tracking. We have chosen these providers because they are highly efficient, and we rarely have incidents with them. 

Our shipments are sometimes subject to customs inspection, which may delay the arrival of your order and for which we have no control. Please contact us if you have not received your knives within 30 days. If, after 30 days, your order has been determined to be lost, abandoned, or stolen, we will give you a full refund, less any previously paid shipping and handling charges.
Order Processing, Order Receipt:
Once you submit your order and it is successfully processed on our secure server, your browser will display an order summary entitled "Order Receipt." Please print this page for your records. Shortly after that, you will also receive an email confirmation, but this email could be delayed due to Internet server traffic. You will not receive a follow-up email after your purchase has been shipped because most orders arrive relatively quickly.
Taxes:
Importing goods of $800 or less is not subject to sales/consumption tax in the US. The carrier will collect sales/consumption tax on shipments outside the US, dependent upon the local tax authority regulations, and is the buyer's responsibility. If the goods are taxed in your part of the world (Europe, for example), the carrier will collect this tax from you, the buyer.
Store Guarantee
We accept Visa, MasterCard, American Express, Discover, Apple Pay, G Pay, PayPal, Diner's Club, Elo, JCB, and Amazon Pay. All transactions are processed on a secure server.

If, for any reason, you are not completely satisfied with any of our products, please provide us with your purchase information, and we will give you a complete refund (excluding applicable shipping fees). We cannot provide a refund for products with engraved custom names. 


Package Unboxing
Here is a video of an actual customer unboxing what is being received.  Not a professional video, but we thought it might give you a realistic view of what you are getting in the box. 
Shipping and Returns
Japanese Knives
Club Rewards Program
Others
Shipping and Returns
Do you ship from the USA or Japan? 

We ship all our knives from Japan.
How do you ship knives?

We regularly use DHL, Japan Post, and FedEx (including automatic tracking) at our discretion. This is because these shippers are highly efficient, and we rarely have problems with them.

For more information, please see our Shipping and Return Page.


How much do you charge for shipping?

We ship free shipping worldwide. (Except to the UK)


Do you ship your knife to the UK?

Due to changing the firearms/weapons law in the UK (young people under 18 years old are prohibited from buying firearms/weapons, including cooking knives), our courier cannot ship our products to the UK.
Do you ship anywhere in the USA?

Yes. We ship anywhere in the USA, including Hawaii and Alaska.
Do you ship to Hawaii and Alaska?

Yes, we ship to Hawaii and Alaska at no extra charge.   
Do you ship to Canada?

Yes. We ship anywhere in Canada.
Do you ship internationally outside the USA?

Yes, we ship worldwide. (Except to the UK)
Can I send the package as a gift to someone?

Yes, you can specify the shipping address separately from the billing address to send it to your friends easily. We do not include the receipt in shipment in general unless required by the country's customs. 
Do you allow shipping to a PO Box?  

Yes, we do allow PO Box. The local post office delivers the package shipped via Japan Post, and they can access your PO Box.  
How soon do you provide the tracking number? 

We ship items Monday - Friday 11:00 AM Japan Time. When the item is ordered after 11:00 AM, we send it the next day. So you get the tracking number before 11:00 AM on the same day (if ordered before 11:00 AM).
Why is your shipping fee so low (free)?

At Japanese Knife Co., we are revolutionizing buying Japanese knives by partnering directly with knife manufacturers in Japan. Because they forge, process, and package their knives on-site, we get shipments to you much faster!

By cutting out the middlemen, you get your knives faster without fees.

You get your knives in 5-10 days in the USA and most countries worldwide. (Click here to check when you will get your knives if you order today.)


How long does it take to get my knives after ordering?

We ship the same day!
Orders placed by 10 AM Japan Time will be shipped from our warehouse daily, Monday-Friday, after payment is verified. Orders placed after 10 AM Japan Time will be shipped the next day.
With processing, you will receive your order in 5-10 days.
Do I need to pay sales tax/import tax? 

Importing goods of $800 or less is not subject to sales/consumption tax in the US. Sales/consumption tax on shipments outside the US will be collected by the carrier, dependent upon the local tax authority regulations, and is the buyer's responsibility. If the goods are taxed in your part of the world (Europe for example), the carrier will collect this tax from you, the buyer.
What payment method do you accept?

We accept Visa, MasterCard, American Express, Discover, JCB, and Diner's Club. We also accept PayPal, Amazon Payment, Google G-Pay, Apple Pay, Venmo, and Shopify Pay. 



How secure is your shopping cart?



Shopify Inc. provides our shopping cart with maximum security features, including Level 1 PCI CSS Compliant Secure Provider, Visa's Global Compliant Provider List, and Master Card's SDP List. 
Do I need to create an account order from you?



No. You can check out as a guest by providing your name and shipping address. You are not required to create an account to order.  
Does your website keep track of my account, so I know how to repeat my order?



If you enter an email address when you order, the order information is tracked with your email address.

At any time, you can register on our site with the same email address you used when ordering at

https://dreamofjapan.com/account/register 

This will allow you to easily see past ordered products to purchase the same item.
How to add a discount code? I cannot find where to add the discount code.


You can enter your coupon code on the checkout page.
If you cannot find it, don't worry; email us with your order number and coupon code , and we will refund you the discount.


Are there late fees?
No, there are no late fees if you miss a scheduled payment.
What is the option to pay in installments?
When checking out with Shop Pay, you now have the option to pay now or later. Paying in installments on Shop Pay allows you to split your purchase amount into sour equal, biweekly installment payments—with 0% interest, no hidden or late fees, and no impact on your credit score. In some instances, your first payment is due when you make your purchase; otherwise, your first payment is due two weeks after your purchase
What if I make a return on a purchase made through Installments?
If your refund amount is less than the amount remaining on your Shop Pay Installments balance, you can expect one or both of the following:
- A smaller payment balance on the final payment.
- Less future payments on the remaining loan balance.
If your refund amount is more than the amount remaining on your Shop Pay Installments balance, then you can expect to receive the difference as a refund to your original debit card or credit card payment method within 3 to 10 business days.
Which payment methods are accepted if I use the option to pay Installments on Shop Pay?
The installments option on Shop Pay is available on debit and credit cards.
Japanese Knives
I'm a beginner. Which knife is best for me?

We recommend starting with one of our all-purpose knives (Gyuto, Bunka, or Santoku). If you sign up for our Japanese Knife Club (it's free!), we'll provide you with our Ultimate Guide to Choosing and Enjoying Japanese Knives e-book to help you decide - plus, it comes with a 10% off coupon for your first order!
Is it true that Japanese knives are brittle?

Japanese knives are made with super-hard Japanese steel, which is how they maintain a long-lasting edge and extreme sharpness. However, they are so rigid that they can chip when misused or accidents occur. Generally, as long as you only use your knife to cut appropriate things (vegetables, meat, etc.) and not hard objects (frozen food, bones, or non-organic materials), this isn't an issue. Read more about this topic here.
How do I know if my knife requires oiling?

Any of our carbon steel knives will require regular oiling after each use. That means any knife made with Kasumi Superlative Carbon Steel, HM Carbon Steel, or Honyaki. Read more about our steels here. Oiling is unnecessary for stainless steel knives, but they should still be cleaned and dried after each use.
What kind of oil can I use on my knife?

Generally, any food-safe oil will be okay to use. That includes oils such as canola or sunflower oil - just make sure it's a neutral-tasting oil; otherwise, it will flavor whatever you are cutting. You may also find knife-specific mineral oils that also work well.
Why is my carbon steel knife changing color even though I've been oiling it?

Even if you religiously oil your knife after every use, it will gradually discolor on the surface. This transformation is nothing serious to worry about. It's what's called a patina. It's a natural oxidation that will happen over time as you use it, and actually, it's good for your knife. The patina will help to protect your carbon steel from rusting.
Why does my Japanese-handle knife feel so different to hold?

Knives that use Japanese-style handles are made with a half-sized tang (the lower spike-shaped part of a blade hidden within the handle). That means Japanese-handle knives are heavier on the blade end. It is a sensation that you will quickly get used to, especially if you use a pinch-grip. We have some tips on holding knives in our knife size guide.
Are Japanese knives only suitable for professional chefs?

Anyone can benefit from one of our high-quality knives. However, some of our knives are used for specialist tasks (such as the Yanagiba, for making sushi) and hence are more valued by professionals (or at-home sushi enthusiasts!).
How often should I sharpen my knife?

It depends on how often you use it. If you cook every day, once a month should do the trick. Otherwise, sharpen it whenever it feels like it's losing its edge.
Are there knives for left-handers?

Yes! We can provide a left-handed knife at no extra cost. Select the option below 'add-on' before you put the knife into your cart.
I want my name engraved into my knife in Japanese, but what's the difference between Katakana, Hiragana, and Kanji?

Japanese has three 'alphabets.' Katakana is used for writing foreign words, and Hiragana is used to write Japanese words. Finally, Kanji is a writing system based on traditional Chinese characters. Because written Japanese uses no spaces, the three writing systems are combined to break up sentences and make them easy to read. For a visual comparison, here's my name (Kei) written with each of them: けい (Hiragana), ケイ(Katakana), 圭 (Kanji). Choose whichever writing system looks most pleasing to you.
Do I need whetstones if I already own a honing rod?

A honing rod should never be used on a Japanese knife. They tend to chip Japanese knives and are only intended for softer European steel. They don't sharpen knives but only straighten the 'burr' (the very peak of the cutting edge). A whetstone is the best way to sharpen both Japanese and European knives.
Club Rewards Program

How can I get my first order 10% off? 

You can sign up for our newsletter and get the 10% off coupon in your email immediately after signing up. Use the coupon when you check out for the first order.
How do I join? 


Please join by creating an account for free here. 
How can I access my account?  How can I see how many points I have? 

You can click on the "account mark" on the header, or simply click here. 



How do I spend points?

You can spend your points by clicking on the points tab while logged into your customer account. Then, under the Reward section, you can click Redeem next to the reward you want to claim!
What are Birthday Points?

Every year on your birthday, we'll give you bonus birthday points, just for being you! 
How much does it cost to join?

Our loyalty program is totally free! We do it to say "thank you" to our awesome customers! 
Is there a limit to how many order points I can get?

Of course not! We want to reward your loyal orders! 
Do points expire? 

Points never expire! 
Other Questions
Is it made in Japan?

Yes, all our knives are 100% handmade in Japan.
Do you do wholesale?

Japanese Knife Co. takes pride in providing wholesale quality Japanese knives to various Japanese Restaurants, Cafes, and Shops throughout the world. If you are interested in our wholesale service, please contact us.


Do you sell on Amazon?

You can use your Amazon account to check out our products on our page.  Simply select the Amazon Pay icon on checkout.
Cannot find your answer?
No problem.
We are here to help you. Click here to contact us!
---
The Master of Slicing, Mincing & Dicing.
Santoku knives are renowned for their control, precision, and sharpness which makes them the perfect ally for intricate cooking tasks - such as slicing, mincing, and dicing. In traditional Japanese cooking, the Santoku knife is often chosen for high-precision tasks such as sushi and sashimi preparation.

Their functionality is another key benefit. You can use them for a wide variety of tasks - including cutting meat, fish, and vegetables. The handle is designed to be comfortable to hold and easy to control. The santoku's ultra-versatile usage and performance will have you reaching for it often which qualifies it as a great go-to knife for both professional chefs and home cooks alike.

Each Santoku knife is handmade by a master bladesmith. Using techniques that have been passed down over generations to create extraordinary quality—which makes every slice feel notably superior. 
The Meaning of Santoku
The Blade of Three Virtues

The name "Santoku" (三徳) is derived from the Japanese words "三" (San, meaning "Three") and "徳" (Toku, meaning "Virtue"). It is named "Three Virtues" due to its ability to effectively cut three major types of ingredients: meat, vegetables, and fish. Some also attribute the name "Santoku" to its effortless performance in slicing, dicing, and mincing.

---
Key Distinctions Of This Santoku Knife 
The knife you'll reach for daily, for tasks that require expert precision & control. 
Your Go-To Knife  |

Versatile functionality & performance, that suits a range of tasks. 

Unique Precision |

Precise & sharp—perfect for intricate slicing, mincing & dicing jobs.

Versus Other Knives |

It's shorter, thicker, straight-edged + a sheep foot-shaped tip. 

Minimizes Cell Damage | Enhances

 the appearance, taste, & texture of the food.

Suitable For Everyone |

Perfect for both seasoned chefs & beginner home cooks alike.

Masterfully Made |

This Santoku knife is handmade, hand-braided, & sharpened by a master.
---
Blade Length: 
170mm (6.7 inches) 
---
CM Stainless - Western Style Handle
Most popular professional grade sharpness requires the least maintenance as it is rust resistant.

Available Blade Length: 170mm (6.7 inches)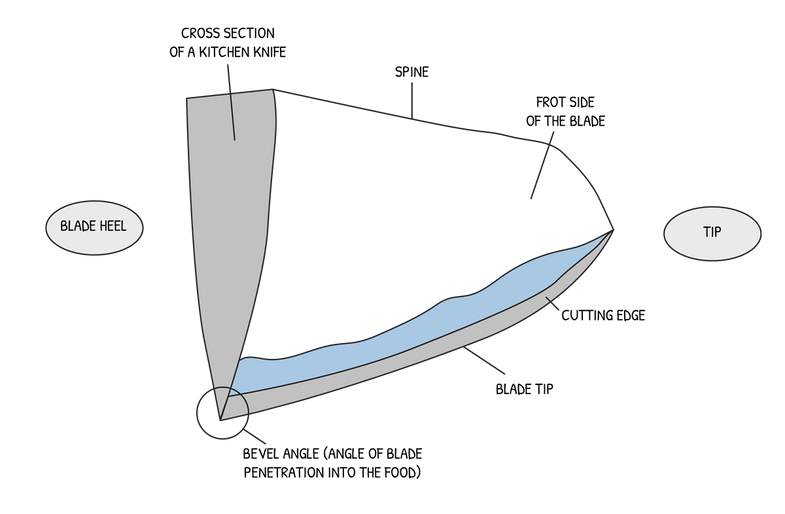 The Blade of this Knife
(Double-beveled blades)
The traditional samurai swords have double-beveled blades. The blade bulges out slightly from the centerline of the blade on both sides.

There is an ideal blade angle that will optimize the blade's ability to hold its edge. We reduce the thickness of the blade either from the front side or backside to have the best profile to "bite into" whatever you are cutting. When we sharpen the blade, we remove any micro beveling on the blade edge and adjust the thickness of the cutting blade. This process makes the knife easier for the end user to sharpen and is an essential part of enabling the blade to hold its edge.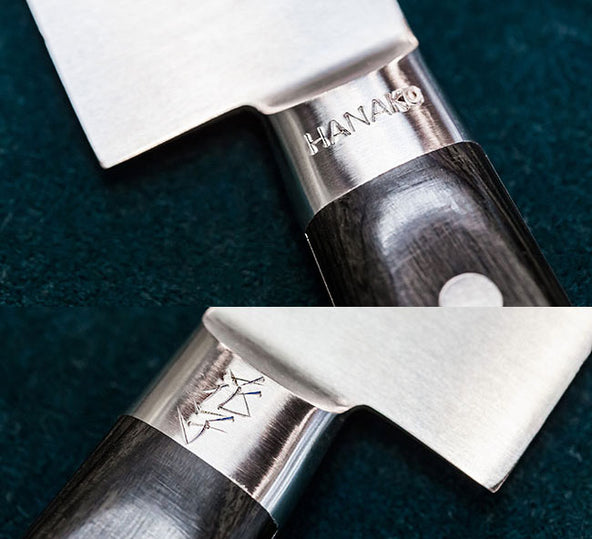 Custom Name Engraving - Free (Special Today)
Engraving a name on a knife can add a personal touch to every cut for decades to come. It is also a great addition to knives that will be gifted, as it shows thoughtfulness and levels up the personal value of the knife. It's especially useful for chefs, in particular, as it helps them easily identify their knives in a busy kitchen.

• Increases Personal Value | A great way to make a gift more personal. 

• Makes Every Cut Special | Creating a unique bond with the knife. 

• Easier to Identify | Especially useful for chefs in busy kitchens.


Click here to check out the Top 10 Name Engraving Ideas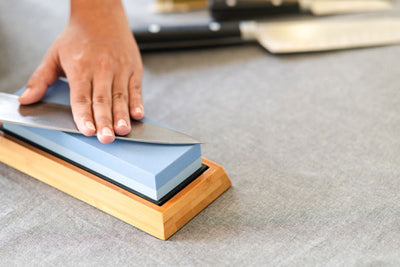 Two Sharpening Stones (For an additional $100)
The best way to keep your knife in good condition and extend its lifespan is by using sharpening stones built specifically for the style of the knife. This optional add-on includes the following two whetstones explicitly designed for this knife.
Medium-grain (Nakato 中砥) whetstone
Size: 65×210×35mm (2.6 x 8.2 x 1.4 inches)
Grit: #600~#1500

Course-grain whetstone (Arato 荒砥)
Size: 68×205×34mm (2.6 x 8.0 x 1.3 inches)
Grit: #180~#220
First, use a course-grain whetstone, then refine the edge using a medium-grain whetstone.
Custom Wooden Cover | Sheath
(For an additional $50)
Give your knife a custom wooden sheath that will help keep it protected for years to come. Not only does it look great, but it'll also help the knife stay sharper for longer.

With your knife safely enclosed, it'll prevent accidental cuts. The cover is also made of magnolia wood - soft, moisture-resistant, and contains no strong resins that might cause corrosion in carbon steel.
For Left-Handed Knife Users
(Free Custom Build)
This knife is customizable to fit left-handed cooks. We happily offer this option at no additional charge to you. Some may be surprised that there's even such a thing as a right or left-handed knife. It's true; most knives are ambidextrous. But you must be careful, particularly with Japanese knives, as many are designed only to be used in one hand or the other. That's because the Japanese have traditionally preferred single-bevel knives.