Japanese Green Tea Co.
Premium Yuzu Sencha - 3.5 Oz (100g) Loose Leaf Tea
A Taste Of Paradise In Every Sip.
3.5 Oz (100 Grams) Loose Leaf Tea | Green Tea From Japan | Yuzu Citrus Junos

An Absolute Must Try For Zesty & Roasted Tea Lovers!

Grown in the highlands, kissed by the sun, blessed with zestiness.
30 Days Money Back Guarantee

We believe in a customer-first policy. If you are not happy about our product or service, we will give you a full refund, no strings attached. If you are not satisfied in any way, please email us at info@dreamofjapan.com.

Our motto is to make you happy and healthy. We wish to become part of your life and that you are happier and healthier than you were yesterday. 

Price Guarantee Policy 

We strive to be the best online retailer of Japanese Green Tea products in the USA. Our partnership with the best Japanese green tea farms in Japan allows us to acquire their products at a reasonable cost, which we transfer to our customers through lower prices. We want our customers to get the best price every time.

If you find any other online store which sells the same item for a lower price within six months of the date of your purchase, please let us know, and we will be glad to match that price and refund you the difference. This is true for our store as well; if you find that our store is lowering the price of a product you purchased from us less than six months ago, we will refund you the difference. We want you to feel confident that you are getting the best price.

To request your partial refund, simply email us a link to the product whose price has been lowered and your order ID. We will process your request and credit your credit card accordingly.

Our 100% Price Guarantee has some limitations:

Our Price Match Guarantee applies only to the item you purchased from our store. Additionally, the purchase must be completed before requesting the price match.
Promotions such as

 

coupons, rebates, and buy-one-get-one-free

 

offers

 

are not eligible.
The item must be in stock on the competitor's site.
The competitor site must be an

 

online

 

retailer without a physical location.
We do not offer price-match against discounters and auction sites like eBay, Overstock, etc.
The competitor site must be an authorized retailer for the item in question.
The Price Match Guarantee includes the retail price of the item and the shipping cost. It does not include sales tax.
Nutrition Facts
---
Experience a classic cup of roasted Sencha green tea, with a delightful zesty twist. Featuring yuzu peel, a popular citrus fruit revered in Japan for its complex citrus flavor and stunning floral aroma, the yuzu peel adds a spike of fresh invigoration, served hot in winter it brings a relaxing warmth to the body. Served cold in summer, it offers a refreshingly uplifting coolness.

Altogether, this Yuzu Sencha has an elaborate blend of flavors between the tartness of yuzu and the roasted savoriness of Sencha green tea—creating a one-of-a-kind must-try tea that's both relaxing yet uplifting for irresistibly smooth all-day energy.
Type of Tea
Loose Leaf Authentic Japanese Green Tea (No Additives)
Kamairi-cha
Cultivar
 Yabukita (やぶきた)
Vegan
Gluten-Free
100% Natural
Sugar-Free
GMO-Free
Single Origin
This product is also available on Amazon Prime: USA . Click image below to open the Amazon Product Page!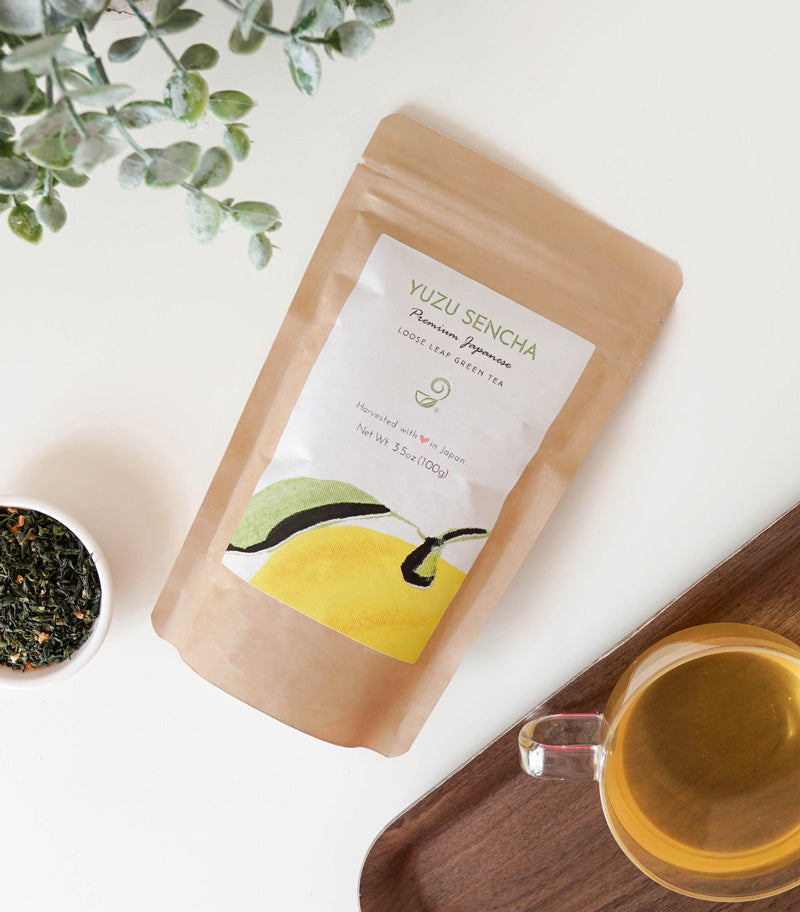 Kamairicha Green Tea—A Sip Of Paradise.
Grown in the highlands, kissed by the nutrients of sunlight.

With every sip of our Yuzu Green Tea, you can taste the ecological paradise it comes from—pristine nature, fresh highland air, purifying sunlight, and cleansing rainfall. Grown in the luscious highlands, 500m to 800m (1,600 ft to 2,600 ft) above the sea. This is where the temperature varies greatly, offering a unique variety of attributes. During cultivation,
the tea leaves remain uncovered, so they can directly absorb nutrients from natural sunlight—giving the tea a deliciously clean, refreshing taste.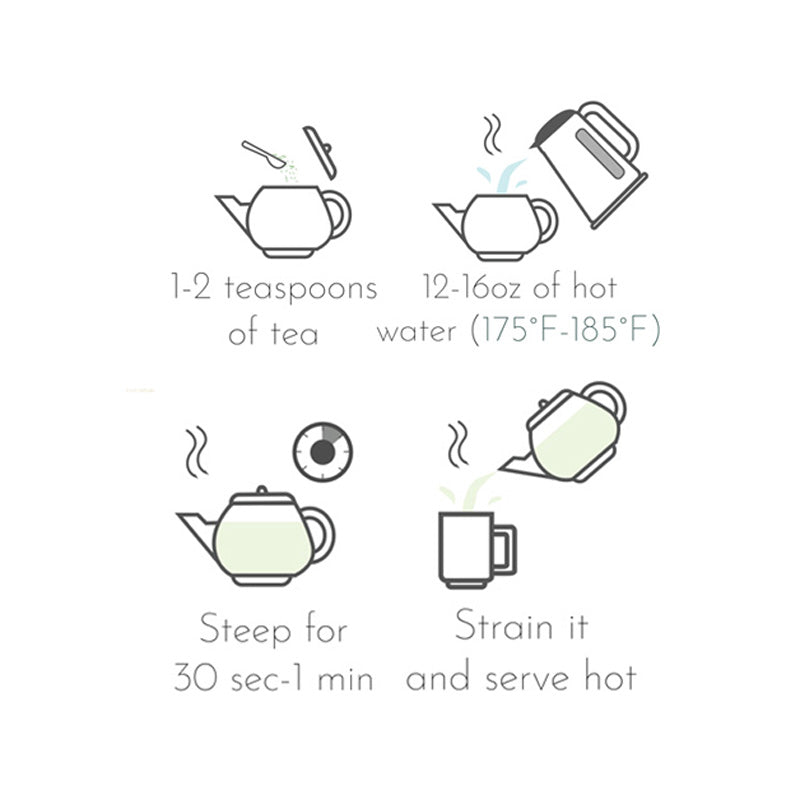 Simple Brewing Guide
Warm brews are best for instant satisfaction, and cold days. A warm brew results in a stronger taste but can easily be over-brewed to the point of bitterness. So, make sure to keep the steep time short & sweet.

Step One | Add 1 - 2 teaspoons of tea to a teapot.
Step Two | Add 12 - 19 oz of hot water (175°F - 185°F).
Step Three | Steep for 30 seconds - 1 minute.
Step Four | Strain, serve hot & enjoy!

Tip: Experiment to find your ideal brew time & taste. There is no exact
science.*